To address the critical need for specially-trained health professionals in northern Arizona, the Foundation offers scholarships to support education in health-related courses of study. Through generous donor support, we have been able to provide more than $300,000 in financial support over the past 10 years.
These scholarships support Northern Arizona Healthcare employees furthering their careers and local high school seniors pursuing healthcare-related college degrees. We are happy to feature two 2019 scholarship recipients.
Flagstaff High School Senior seeking Bachelor of Science degree in Biomedical Sciences, University of Minnesota
$1,000 Foundation Scholarship
High school senior Nevaeh Nez, 18, received two certifications from Coconino Community College during recent commencement ceremonies. She earned Pre-Health Careers and Nursing Assistant certificates one month prior to receiving her high school diploma.
Nevaeh's goal is to become an orthopedic surgeon. Her immediate plans are to move to Minnesota to work with the Lower Sioux Tribe in the health-services field. Of Hopi and Navajo descent, Nevaeh said the move will offer her an opportunity to work in a Native American community closer to her dream school.
"One goal I'd like to pursue with my education is to develop a medical practice that will not break any of our culture practices, and will heal members of tribes."
—Nevaeh Nez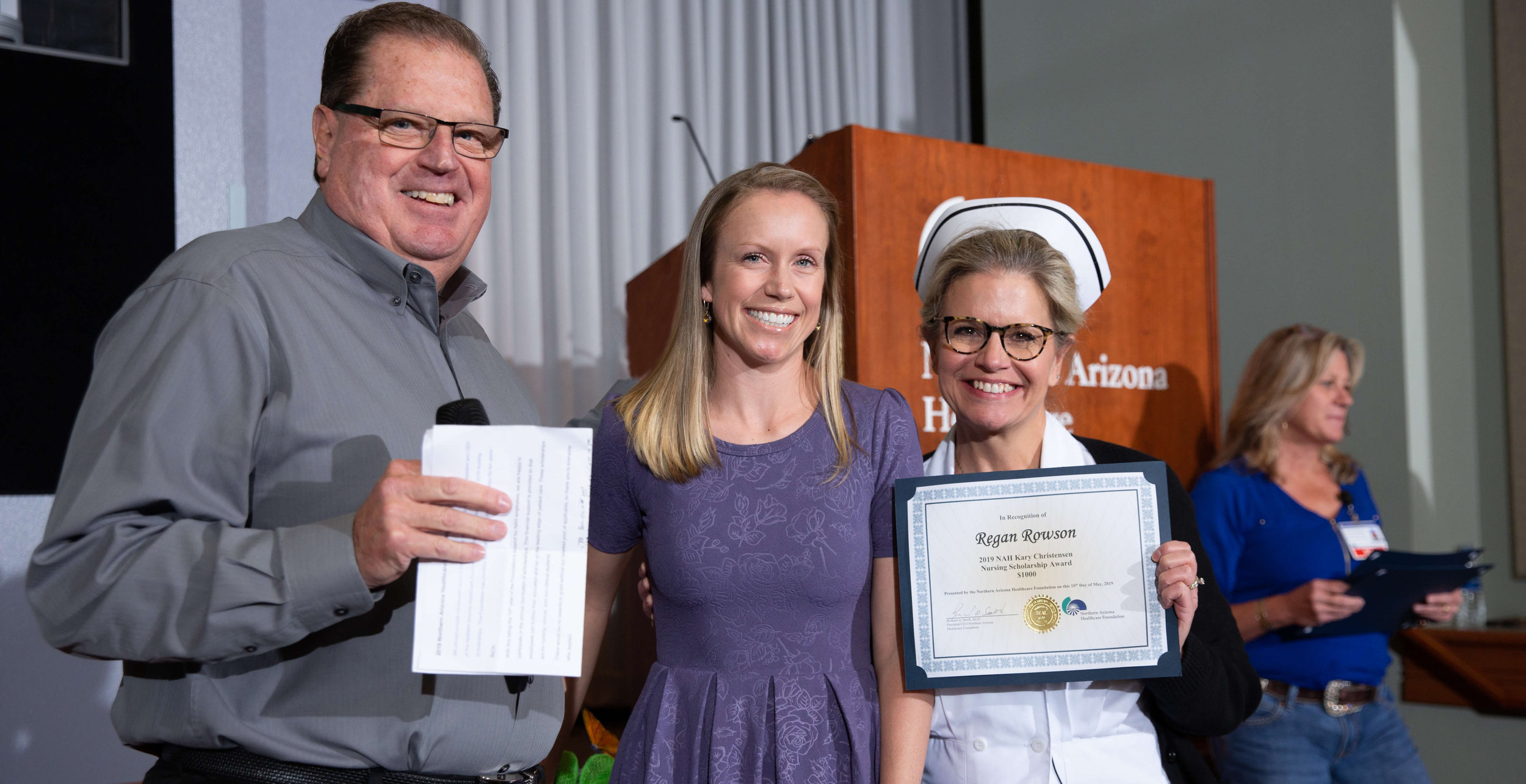 RN in Special Care Nursery, Flagstaff Medical Center, earning a Doctorate of Nursing–Neonatal Nurse Practitioner, Rush University
$1,000 Kary Christensen Nursing Scholarship

Foundation President and CEO Rick Smith and FMC Chief Nursing Officer Kathy Wilkens present scholarship to Regan Rowson, center
Opioid use during pregnancy can result in a drug withdrawal syndrome in newborns called neonatal abstinence syndrome (NAS). According to the National Institutes of Health, approximately every 15 minutes a baby is born suffering from opioid withdrawal, leading to costly hospital stays.
NAS infants must go through intense detoxification in the Special Care Nursery where Regan Rowson is a Registered Nurse. Beyond this role, Regan's goal is to become a NAS representative for foster care in northern Arizona.

"I want to be involved with the foster system of northern Arizona and use my extensive knowledge in neonatology to give these kids and families the best chance at a successful relationship."
—Regan Rowson